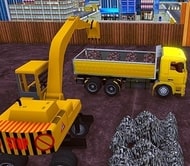 If you want to become a builder, then welcome to City Construction Simulator 3D. You will sit behind the wheel of a tractor and start your work. It will not be easy, because you have a lot to do.
Tasks will become more difficult each time. You must master all the rules, which will make the path easier for you.
Roll up your sleeves and forget about rest! This town is waiting for you and is ready for improvements. You have to lay asphalt so that cars can drive freely. You also have to visit different locations and find out what awaits you there. Transport the necessary things!