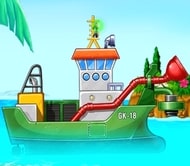 In this game you have to build a territory in the middle of the ocean. Are you ready to take up farming? Dig beds to plant vegetables. Grow trees and bushes to get fruits and berries.
Also, do not forget about digging up the necessary resources. This will help you in the future, for example, make your site bigger.
This is a very exciting process, where you can invest in your work and get a good return. You can also hire employees who will do everything for you. Control everything and achieve great success! There are a lot of enemies who want to attack!