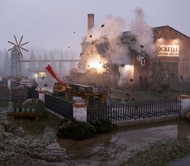 Are you ready to plunder ruthlessly? If your answer is yes, then welcome to Teardown! Here you have to develop a plan of action so that everything goes as it should. You have to use your creativity to complete the desired plan.
Remember that sometimes things won't go the way you planned. You must have a fallback to be successful. How far do you think you can go?
Become the most successful robber!
According to the plot of the game, you are a hired worker. You have to go to the construction site and deceive everyone. Instead of following instructions from the management, you will commit robberies. You will be engaged in illegal things, such as damage to property or espionage.
You have a huge responsibility, so be careful! You will receive certain missions that will require your ingenuity. For example, sometimes you will need to steal cars and drown them. This is done in order to take revenge on your offenders. To do this, you will need to plan a route along which no one will find you.
You must drive carefully to your destination and not be caught by the police. And if you are assigned to steal a huge amount of money, you must use a truck. Throw bills out the window, and then step on the gas! You will have different tasks that require an individual approach. You will always have to react quickly so that force majeure does not occur!
Destroy everything in your way
In Teardown, you are in a city that you can completely destroy if you want. Almost everything here is subject to destruction, so you can use it. You will have all the necessary tools and equipment to help you in this matter. You can use hammers, axes, saws and even military weapons.
As well as tractors, excavators and much more will doom you to success. You can dig a tunnel underground to become even more inconspicuous. Use heavy objects to destroy walls, ceilings and fences. But no matter how hard you try, you will not be able to break through concrete structures. You can use explosives in such a case, but then it will cause a fire.
You need to make sure that it does not fill the entire building. If your character gets burned or falls from a height, it will lower your health. In a bad case, you can die, so don't let that happen! Also there are good neighbors who do not pay attention to loud and suspicious sounds. You can calmly do your job and not be afraid. Playing here you will get complete freedom of your actions! Plan the perfect heist and don't stop there!