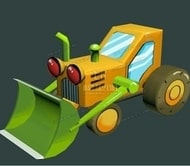 This is a paradise for those who love racing in an unusual way. Here you have to go to the city where the road is calling! But this is not the place where you will drive a sports car!
Here you will have a tractor and other trucks at your disposal. They are much more difficult to manage, because they are large. Get on the track and start the journey! Each round is unique, so you won't get bored!
It will not be easy, because the player must control the movement in order not to crash into another transport! Dimensions are too large to try to overtake a neighboring car too close.
Calculate every centimeter so as not to start the level again. But also try to be nimble, especially in a stressful situation. Don't be afraid to hit the brakes hard, this way you will definitely avoid an accident. Good luck!